Having brewed up quite a few 1 and 2 can kits, I was keen to try to move onto the next stage and ordered one of the Extract kits from BrewUK, Way To Amarillo (
http://www.brewuk.co.uk/store/beerkits/brewextract/amarillo-recipe-pack.html
), based soley on the number of favourable reviews.
The kit comprised of dried malt extract, Amarillo hops and yeast. Have seen comments that these kits are expensive, but they're about the same as a decent 2-can kit, and you get exactly what you need to make the specific brew....plus home brew shops need to make a profit, or else they wouln't be in business and we'd had far less choice.
Anyway, had to get a bigger stock pot off eBay: 15L, you could get away with smaller, as the boil volume is only 6L or so, to which you add cold water. I did the boil then cooled the pan down in a few sinkfuls of cold water, strained it into the FV, and by the time I'd made up the volume with cold water it was a perfect 24C, so ready to pitch the yeast. OG came out around 1052
Here's some pics: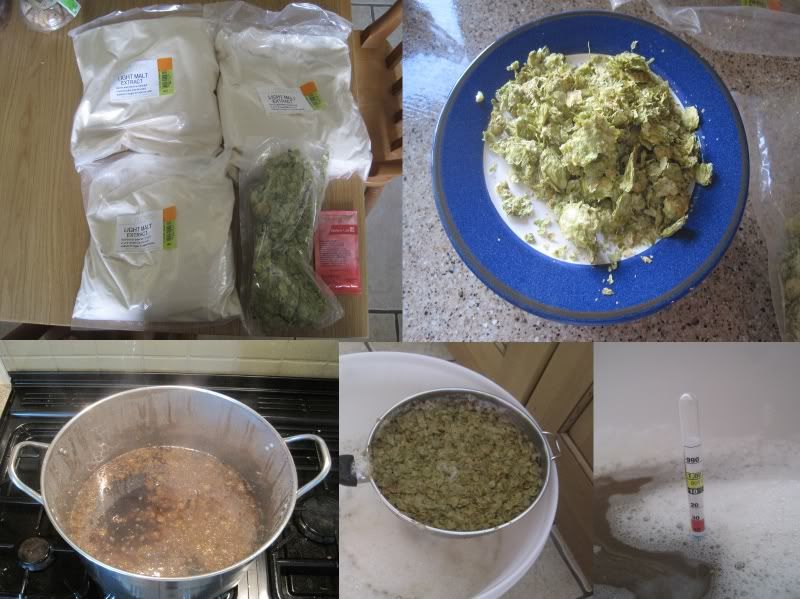 Re-hydrated and pitched the yeast, it was off within 7 hours, and 14 days later it was down to 1010, so half bottled and half kegged it. Had a sneakly sample and it's gorgeous, a really hoppy light-coloured ale, right up my street. They refer to it an American Pale Ale. Now the long wait begins for it to clear and mature a bit.
Although I've been very happy with most of the 2-can kits, IMHO they tend to be malty rather than hoppy, moving to extract gives you the opportunity to make a really hoppy brew. Very happy with this kit already and planning to do others, especially as they do clones of some of the popular pub beers: Theakston Old Peculiar and Exmoor Gold next.
Would encourage kits brewers to give Extract brewing a go, didn't take that much longer than a normal kit brew and the results really do seem to be a step up. Forum sponsor also does Extract kits (
http://www.thehomebrewcompany.co.uk/ext ... c-164.html
), with these you have to buy the malt extract separately.
Will report back when I have the first proper sample.