Administrator.
Staff member
Administrator
Moderator
Joined

Mar 17, 2013
Messages

35,403
Reaction score

9,782
Location
140 stores Nationwide -
https://www.therange.co.uk/stores/
This Make your own rose wine kit brews a light, fruity, medium-sweet rose wine. With well-balanced sweetness and acidity this rose wine features subtle apple and strawberry notes. This rose wine is a good accompaniment to food but also good for drinking on its own.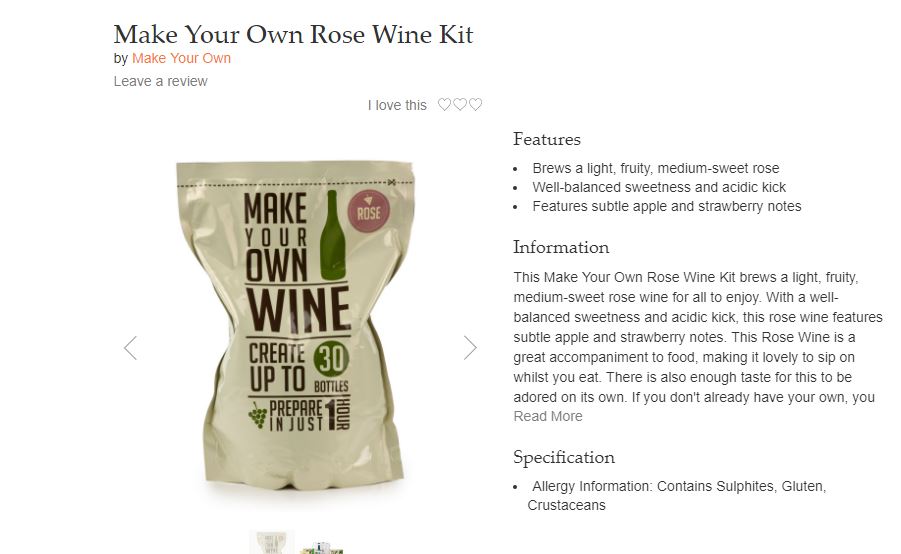 Mrs Tea found this at my local Range store, they also make a white and red version the Rose is priced a £19:99.
When she went to pay the shop assistant told her these kits fly off the shelf every time they get a delivery so i was hoping for something better tasting than the price tag would suggest.
You cut along the dotted line which gives access to dry and wet compartments containing the sachets and the juice, the sachets are wine yeast, oak chippings, stabiliser and finings A and B, there is no nutrient sachet which concerned me at the time.
I had no need to worry about the lack of a nutrient as It fermented vigorously for 7 days as the instructions said it would (allow more time in winter unless you have a heat source) on the seventh day i took a reading and it was finished at .995 (started at 1090)
I degassed added stabiliser and finings A & B which have to be added one hour apart, the instructions say to allow 3 days for clearing.
After 3 days it was crystal clear and ready to be bottled.
The instructions tell you to add 750g of sugar to back sweeten after you have stabilised and degassed it, i decided to leave it dry as Mrs Tea doesn't like sweet wine and i am glad i did as it would have been way to sweet for our tastes.
.
Last edited: